Discover more from CulinaryWoman
Trends in the turbulent culinary world from author and business journalist Micheline Maynard.
Over 1,000 subscribers
The CulinaryWoman Newsletter, 7/26/20
The dollars behind the dishes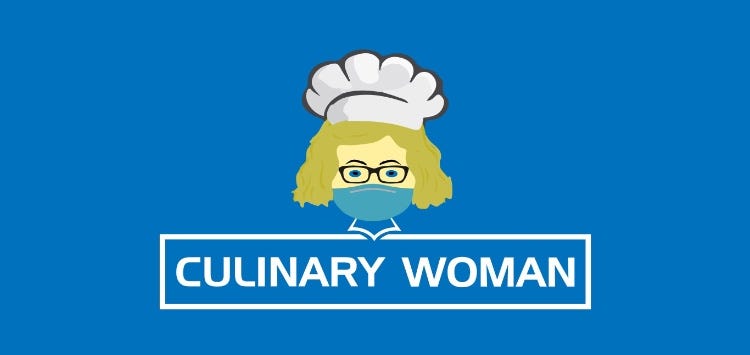 It's the last week of July, and summer produce is getting exciting. Depending on where you are, there may be blueberries, raspberries, sweet corn, tomatoes and even early apples. I hope you are finding wonderful things to eat and cook. Let's set off and do just that.
Unraveling The Mystery Of Indian Cooking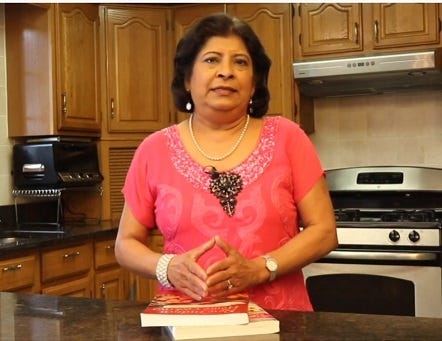 Madhu Gadia isn't an award-winning chef: in fact, she isn't a chef at all. She's a registered dietician and nutrition counselor in Ames, Iowa.
Still, she's an expert source on Indian cuisine, who's appeared in Vegetarian Times, O The Oprah Magazine, and many other places.
Madhu says her goal is to make all types of cooks feel comfortable understanding, and using, the techniques and especially the spices that Indian cuisine incorporates.
"People think that Indian cooking is complicated. It's not complicated," she says. "My goal is to unravel that."
She also wants that food to be healthy, which is something she has stressed in her two books: The Indian Vegan Kitchen, and The New Indian Home Cooking.
After years in which she taught cooking classes in Chicago, Ames and elsewhere, while continuing her career as a dietician, Madhu decided she wanted to focus on the Web.
Earlier this year, she launched a video series, where fans of her blog can see her demonstrating the recipes she writes about. Her goal is to build her video audience and make it a key part of her career.
Getting started with spices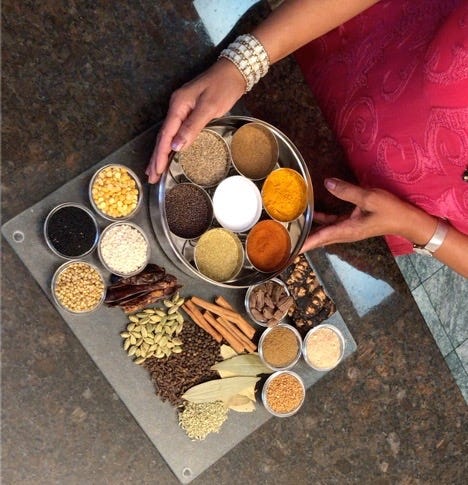 I asked her a good place for beginners to start, and she immediately pointed me to her video called Introduction to Indian Spices: Beyond Curry Powder.
One of the things that makes people shy away from Indian cuisine is the idea that you have to invest in an entire shelf full of spices in order to get started. But Madhu says you may already have some of them in your kitchen.
Here is her starter list of basic Indian spices.
Cayenne Pepper
Cumin Seeds
Garam Masala
Ground Coriander
Brown Mustard Seeds
Turmeric
Asafetida (optional, yet it's an important spice as it helps with digesting beans) 
Salt – (she keeps salt in the spice box for easy use)
To keep them organized, she recommends a spice box called a masala dabba. You normally can get one at Amazon (it's currently sold out), but if you have an Asian grocery store where you live, they are bound to carry it in their household section.
Once you have your spices, Madhu recommends that you start with one dish — just one — so that you can start building your Indian cooking skills.
Many people immediately think of curry, and she has videos that show how to make a variety of curries, including chicken, chick pea, eggplant and a baked black pepper fish version.
However, when Madhu talks about "curry" she does not mean a dish made with the "curry powder" sold in grocery spice aisles.
"That's one of my pet peeves," Madhu says.
When you look at her recipes, you can see that authentic curry is made with layers of spices, not just one type sprinkled into a sauce.
Turn down the heat
The idea of gambling on a main dish might be too daunting for some cooks, so Madhu says it's perfectly okay to begin by perfecting a side dish.
"Just start with a few spices, make simple dishes like a vegetable that you flavored with cumin and coriander and turmeric and a little lemon," she says. "Add that to your every day meal, so you have a little chicken, and delicious potatoes, or eggplant that you would enjoy."
Madhu wants to dissuade people from thinking that Indian food is naturally hot. "It doesn't have to be hot at all. What makes it hot is cayenne pepper."
Growing up as one of five children, Madhu says her mother rarely put cayenne pepper in her dishes because it was too hot for the littles. Instead, her parents kept a bottle of cayenne pepper sauce on the table, and added it judiciously to their taste.
Indian food "should have the same amount of spices, except for the heat," she says. "You don't add more cumin. You don't add more coriander."
Madhu found it relatively easy to adapt her dishes for vegan cooking, because Indian cuisine relies heavily on vegetables and starches. Rather than ghee, the clarified butter used in Indian cooking, she relies on olive oil or other types of oil.
Hoping to achieve
tripti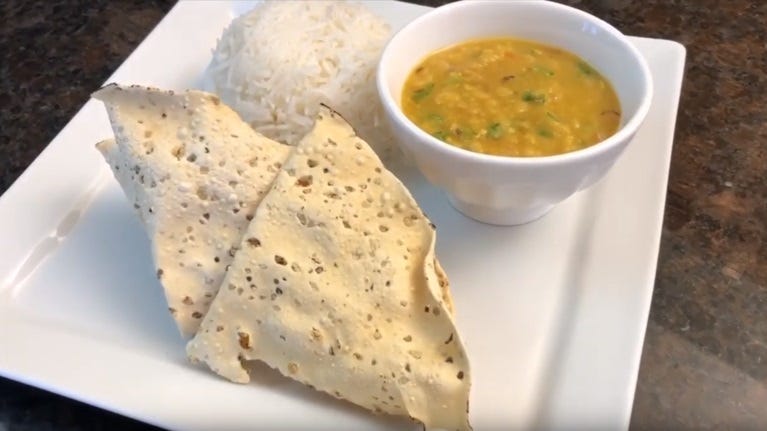 In all her cooking, she is aiming for tripti, a word that means "satisfaction." What would be her ideal meal?
Madhu said it would be a thali, which you can think of as an Indian bento box. She would have a dal, the souplike sauce that is often made with red lentils, a vegetable, like cauliflower or eggplant, plain yogurt, and a bread, such as chipati or roti.
What about a dessert, I asked? She laughed. "Which Indians don't like sweets?"
If you'd like to keep up with Madhu, you can find her on social media including Facebook, Twitter and Instagram.
CulinaryWoman Of The Week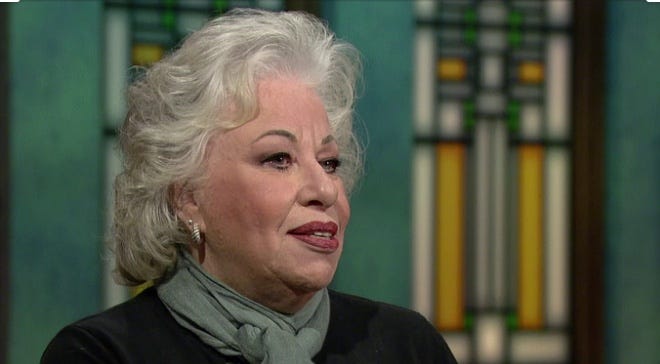 When I moved to Chicago in 2010 to work in public radio, I went to see my friend Barry Sorkin at Smoque BBQ. I met Barry when I wrote a story for The New York Times about career changers who went into the food world.
I asked Barry for a list of people I should meet. "Go see Ina," he said. Ina was Ina Pinkney, then the doyen of Ina's, the legendary breakfast place in Chicago's West Loop.
He recalled that about three weeks after Smoque opened, Ina came in to eat, the Chicago equivalent of Queen Elizabeth II stopping by to dine.
If Ina liked a restaurant, she'd tell her network, and other food names would follow. Ina gave him some useful unsolicited advice, including "take Mondays off." And later on, she lent him use of her parking lot so he could add a smoker. He needed the extra capacity because his business was taking off.
I skidaddled over to meet her, and I subsequently made Ina's my regular spot for breakfast meetings. You could not miss her: Ina was either at the front counter, perfectly dressed and made up despite the early hour, or she circulated through her dining room, greeting guests and gauging how well things were running.
Although she was always gracious, she was busy, and we did not get to know each other well until she closed Ina's in 2014. (You can watch the documentary about her life and restaurant, Breakfast at Ina's, on Amazon Prime.)
Now that she had more free time, I turned to Ina for guidance on restaurant business stories, and she became my Sherpa.
She connected me with her friends, and I learned that everyone considered her a treasure, albeit one who shared her honest opinion. Meanwhile, she published a cookbook and carved out yet another career as a breakfast columnist for the Chicago Tribune.
In late 2018, disaster struck. Ina, who suffered with polio as a young woman, fell and injured the leg most affected by her illness. She went through long months of hospitalization, rehab and physical therapy.
Now in a wheelchair, her apartment needed to be reconfigured, since she could not see the top of the stove. What to do? A breakfast FOR Ina.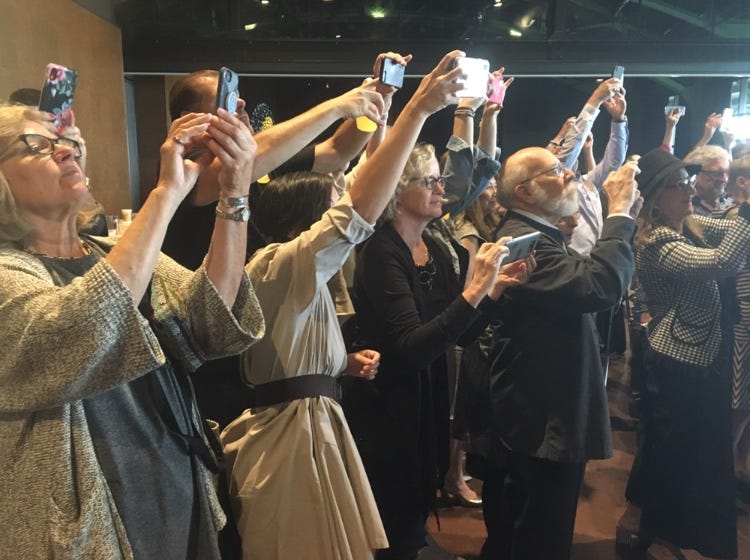 Chefs from all over Chicago got together last year at a fundraiser that immediately sold our. The ballroom was full of love and appreciation and delicious food, and Ina was in the spotlight, as you can see from this photo. It was a small way to repay Ina for all the advice and comradeship she had given us.
I'm delighted to name Ina Pinkney as the CulinaryWoman of the Week. Thank you, friend, for everything.
A Cookbook From Cajun Country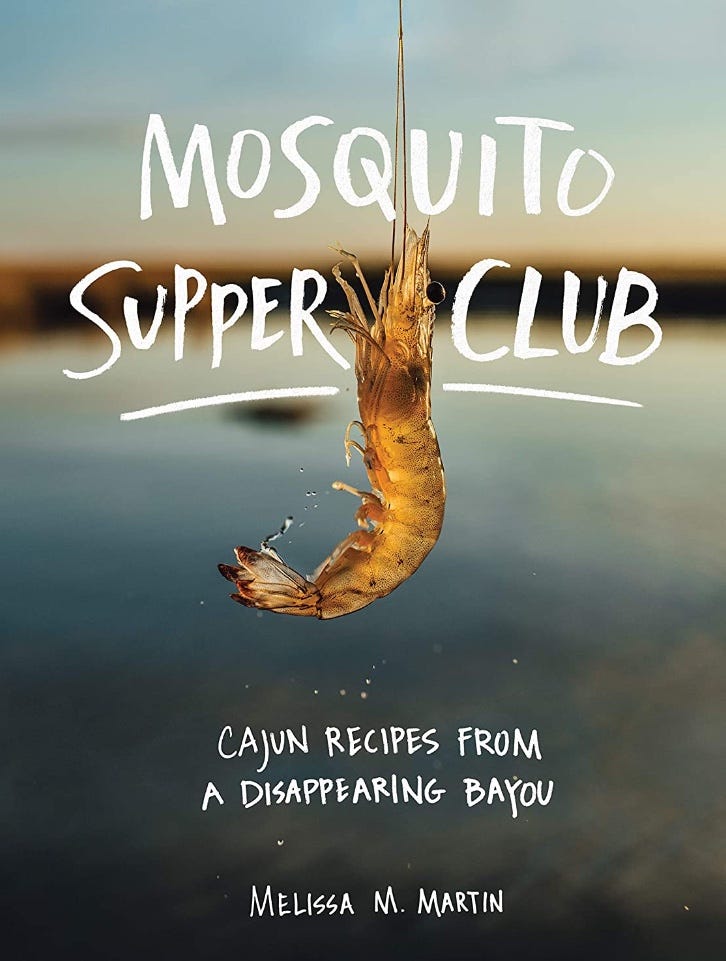 Melissa M. Martin
After my mother died in 2015 (more on her below), I took a trip to New Orleans, which I consider my second home - okay, third, if you include Chicago.
I'd heard about an interesting private dinner place called Mosquito Supper Club, and reserved a spot. At the appointed hour, a group of about 20 of us gathered in the garden of a shotgun house. There, oysters were being shucked, and champagne was flowing.
Inside, Melissa Martin and a small kitchen team were cooking dinner based on recipes Melissa had learned to make on the Louisiana bayou, where she grew up and kept a houseboat.
We all ate collectively in a big dining room, sharing BYO bottles of wine. One of the dishes was tarte a la bouille, a milk custard pie served solely before the Christmas holidays and a rare find outside southern Louisiana (I've only had it one other time since).
After dinner, Melissa came out and read to us from a cookbook she had in progress, expressing a hope it could be published some day.
Now it has been, and it's beautiful, with photos by Denny Culbert. Melissa has captured traditions that are fading away, and added her life story to them.
If you love Louisiana, or are just curious about the region and its foodways, please explore her book. And when Mosquito Supper Club re-opens, plan to eat there.
What I'm Up To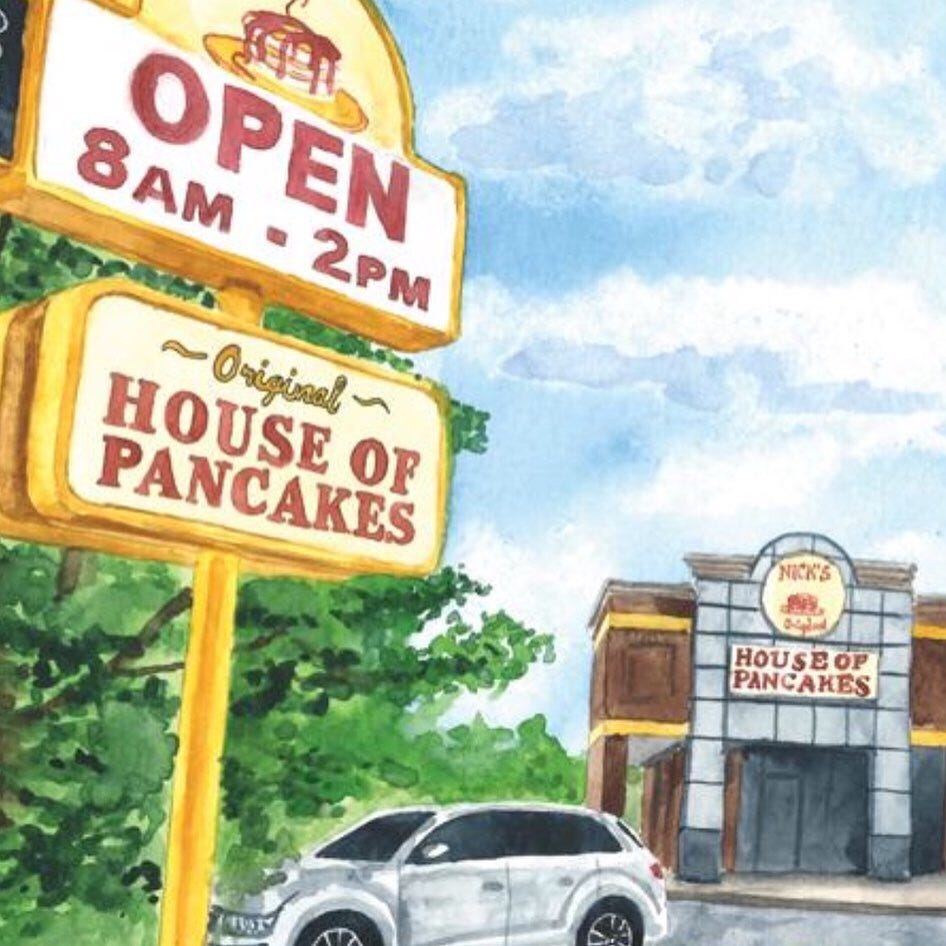 Everybody goes to Nick's. Eleven years ago, our friend Helen Panos, owner of the Village Kitchen in Ann Arbor, told us that her son Nick was planning to open a breakfast place. I am a huge fan of breakfast and will happily eat it all day. My family became some of the first customers at Nick's House of Pancakes, and we've been dining there since.
My mother celebrated her 100th birthday there, and a trip to Nick's was the last outing she took before she died. Nick named one of his pancake specials after me, which ranks high on my list of culinary accomplishments. I wrote about Nick's and how it's maneuvering through COVID for the Ann Arbor Observer.
In Memoriam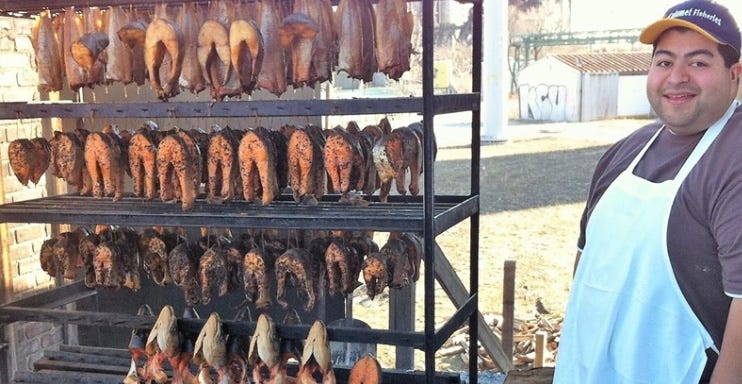 Last week, people who know the Chicago food scene were heart broken. Carlos Rosas, the beloved manager of Calumet Fisheries, died at age 41 of COVID-19.
You might not have known Carlos by name, but if you ever stopped into Cal Fish on East 95th Street, you would have recognized him. He was the big guy with the big smile who treated you like a long-lost friend.
Read about him in Louisa Chu's obituary for the Chicago Tribune (she took the photo above).
I got to know Carlos when I lived in Chicago. Every other Friday afternoon, I left town as early as I could in order to drive home to Michigan.
I usually drove straight down Lake Shore Drive, meandered around a little on the South side, and wound up at Cal Fish.
"Did you come for some shrimp?" Carlos asked me, every time I walked in. Yes, I bought their famous smoked shrimp, and fried shrimp, and fried scallops, and usually a hunk of smoked fish, too.
It was worth going in, just to see Carlos, and sometimes I'd stop on Sundays, too, on my way back into town.
Carlos was a proud ambassador for Cal Fish (people also call it "the fish place"). It won the James Beard Award in 2010 as an American classic (he made sure I got to see the medal). It appeared in Anthony Bourdain's series No Reservations.
And years before he began working there in 1997, Cal Fish could be glimpsed in the famous scene from The Blues Brothers movie, in which Jake and Elwood jumped the bridge outside the door. (Look out Dan Ackyroyd's window).
He never tired of pointing out the spot where the filming took place, or talking about the movie.
Hearing that Carlos was gone made me very blue, both that he died at such a young age, and that COVID-19 had claimed another victim. There is a GoFundMe started by his family in case you'd like to chip in.
No one will forget him, or that big smile. By this weekend, there were more than 500 comments on Cal Fish's Facebook page about him, including this one from Christy Mercado.
"Carlos, my friend. We've known each other since high school. You've always been a kind person. I'm so glad that I got to call you my friend. You will be missed. Your family will be in my prayers. The fish place will never be the same without you."
Neither will Chicago. RIP, Carlos.
Send me feedback and ideas!
Are there some culinary people you'd like me to talk with, or are you spotting trends I should know about? I'd love to hear directly from you. Email me at mamayn@aol.com. 
Follow CulinaryWoman on Twitter @culinarywoman. I'm also @michelinemaynard on Instagram. If you let me know you're a newsletter subscriber, I'll be happy to follow you back. Thanks to those who have! 
Feel free to share this newsletter. Stay healthy, wear a mask, and see you next Sunday.