The CulinaryWoman Newsletter, 8/23/20
The dollars behind the dishes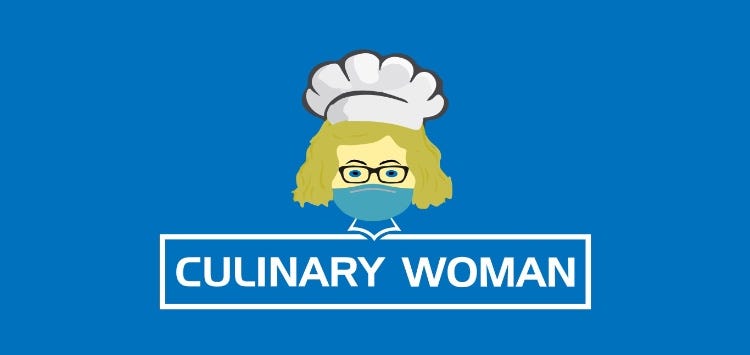 Tomatoes! Peppers! Eggplant! Fresh herbs! Not to mention, beautiful melon and the first apples of the season. If you walk through your local farmer's market, you're seeing the harvest in front of your eyes. But, you might be out of ideas, especially if your brain is burned out from the past few pandemic months. Never fear. You're about to get inspired.
Sharing Their Enthusiasm For Greek Cuisine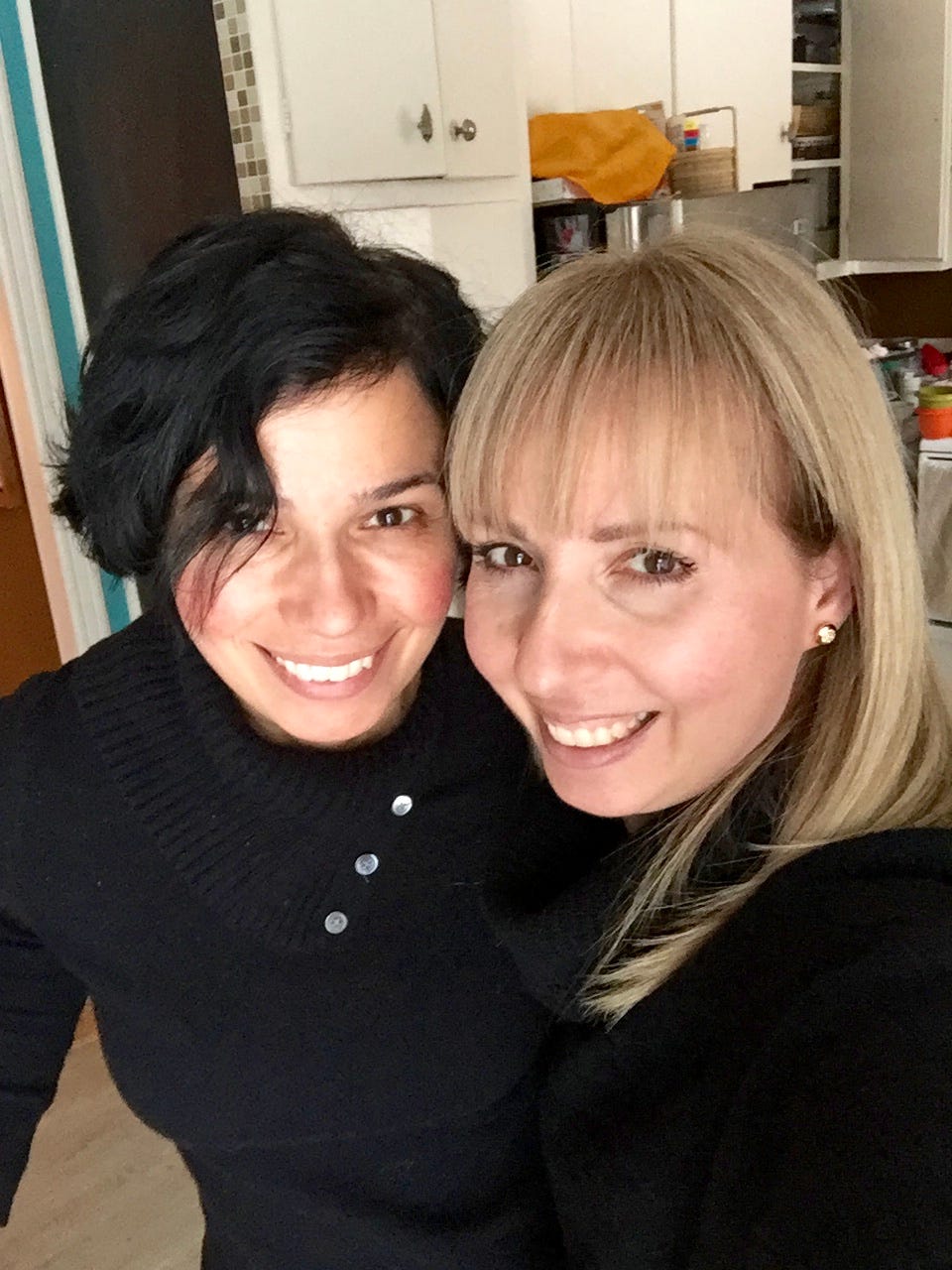 I love Greek food and Greek culture — so much that my Greek friends call me an honorary Greek. Whenever I get a chance to visit a Greek festival, you'll find me eating all kinds of yummy dishes, chatting with the cooks and tapping my feet, watching the lively dancers.
So, I couldn't have been happier to discover Mia Kouppa, the food blog that focuses on Greek cuisine.
I was even more excited to discover that it was run by Billie and Helen Bitzas, two sisters who live in Montreal. (Billie is on the left in the photo above, and Helen on the right.)
Now, Montreal is integral to my family history — according to Ancestry, my DNA is 97% the Monteregie region of Quebec. And I knew it had welcomed numerous immigrants over the decades, including my mother's parents.
But, I didn't realize that applied to the Greek community, too. I asked Billie and Helen to explain how their Greek family wound up in a French-Canadian city.
Their mother's journey
"Our mother (Dimitra) immigrated to Canada alone in 1960 seeking a new and better life," the sisters say. "The economy in Greece at that time, particularly for a village girl like our mother, was difficult and opportunities were limited."
So, she boarded a ship called the Fredericka and set sail to Canada in February of 1960.  (You can just imagine how cold it must have been upon her arrival; many ship lines did not begin operating until March, because of ice in the north Atlantic.) She landed in Halifax and from there took the train to Montreal. 
Canada would allow her to choose her destination, and she picked Montreal, for what will sound like a familiar reason to anyone who understands immigrant stories.
"A relative in Greece had a cousin who had an acquaintance who lived in Montreal.  This small, distant connection to home was enough security for her to decide that Montreal was where she would make her home."
For the first few years she was in Montreal, Dimitra corresponded with a gentleman back in Greece. Eventually, the courtship took root. She went back to Greece, got married and brought her new husband, also an ace cook, back to Montreal with her.
Growing up Greek in a French-speaking city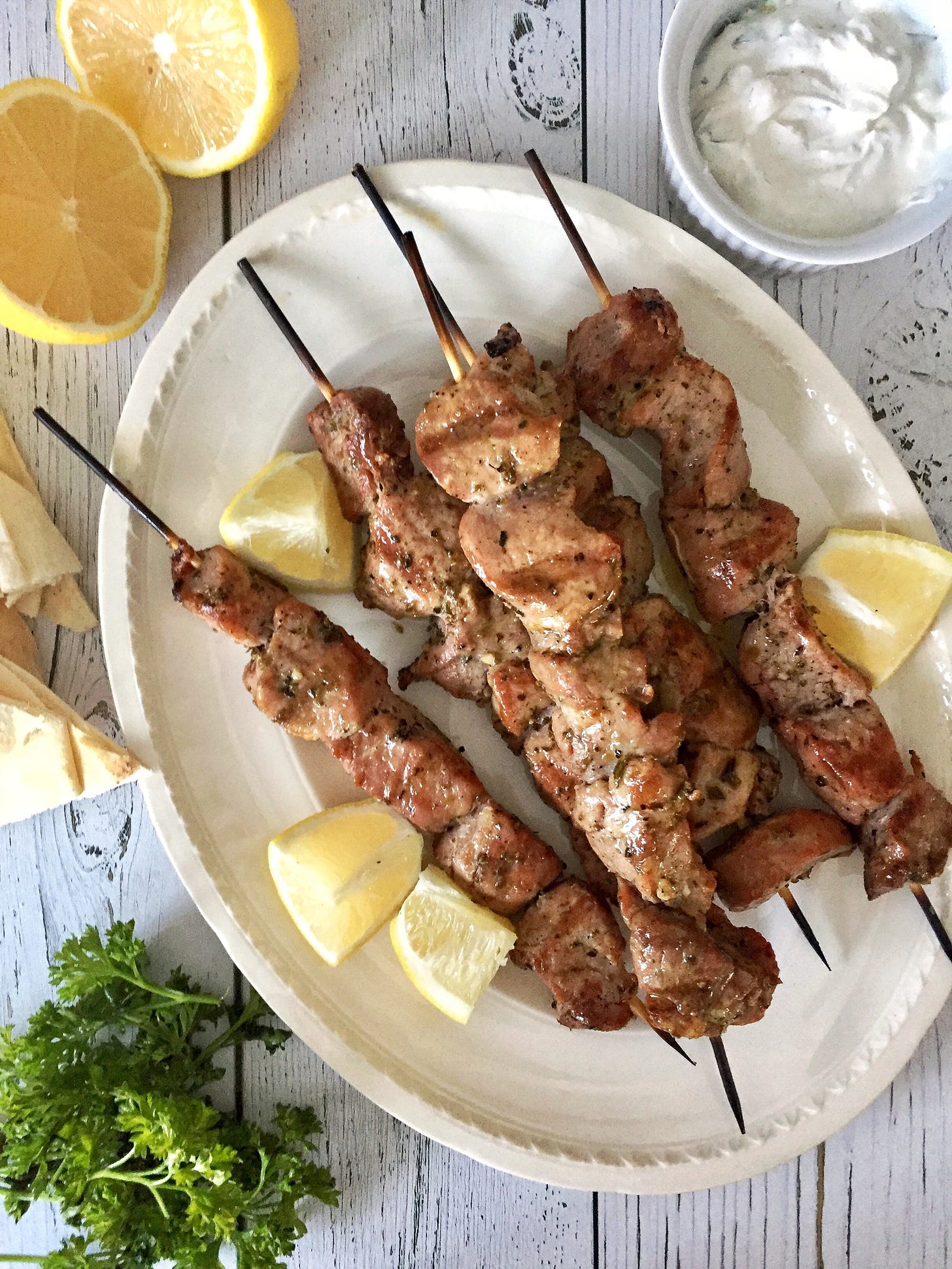 The Bitzas sisters grew up trilingual, speaking Greek, English and French. Their neighborhood had many Greek families, and those from Cyprus, "so we never felt very different," they recall.
But as a major global city in a country with relatively open immigration, Montreal was populated with people from Southeast Asia, particularly Vietnam and Cambodia; the Caribbean, Europe and elsewhere in Asia.
"There was an incredible diversity of people, culture, and language where we grew up.  In the schoolyard, we all tended to speak either English or French, but when parents came to pick up their kids, you heard so many languages, and the school cafeteria was always a delicious medley of smells as kids warmed up their curries, or their Chinese noodles, or their pastichio." 
Soon enough, it was time for the Bitzas girls to begin their own cooking lessons. Helen says the first thing she learned was roasted lemon potatoes.
"I loved these potatoes so much that I would ask my mother for them so often.  When I was about 13 or 14, she taught me how to make them myself, probably because she was tired of making them every day!"
She recalls, "I went through a phase where I ate roasted lemon potatoes with every meal, and as a snack.  I still love them, although these days I try to limit myself a bit more ;)"
Billie's inaugural dish was chicken kokkinisto, which is chicken cooked in a rich tomato based sauce, usually served on pasta, or with rice. Their parents worked into the early evening, and the girls were tasked with finishing dinner preparations so the family could eat around 7 p.m.
"Unfortunately, I also remember many burnt pots, probably because I had the attention span of a … well, of a kid who would have rather been outdoors playing.  I was probably 10 or so when I was given the task of finishing up supper."
The toughest dishes to master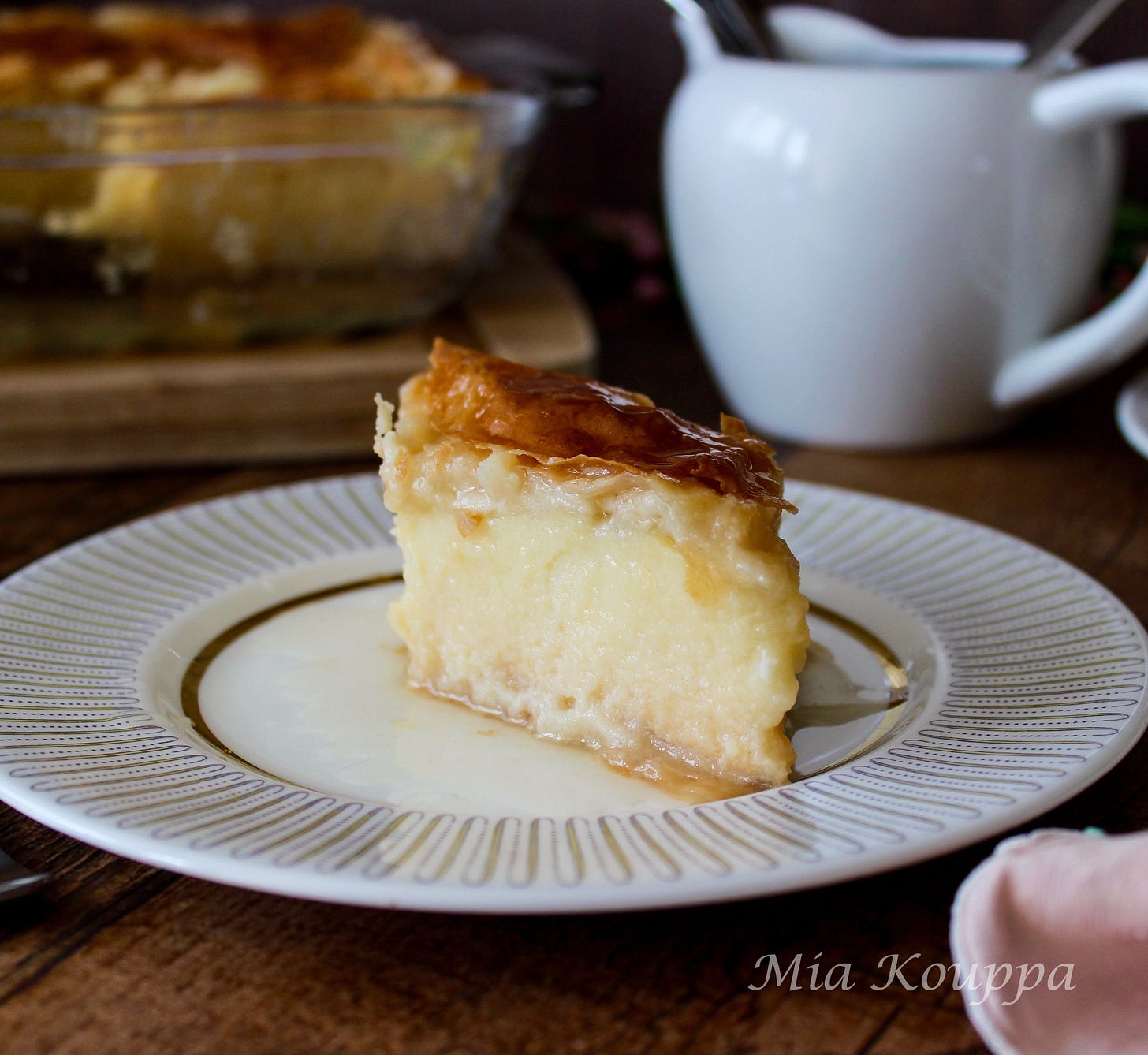 I love Greek pastry, and I was drooling over this photo of galaktoboureko, the Greek custard pie. I try to eat it whenever I see it at a festival or in a Greek restaurant.
Pastries, however, have been a challenge for the sisters.
For Helen, it was kourabiedes - classic Greek almond cookies served with a generous dusting of icing sugar, what my mother called Russian Tea Cakes.
"I don't know why I had such a hard time with these cookies!  I couldn't get the shape right, they would spread out too much after they baked, and the texture was just off.  Baking can be challenging!" Helen says.
Because she had such a hard time with them, the sisters made sure that their recipe is "incredibly clear and detailed," she says.
For Billie, the challenge was another dessert — diples. These pastries, which look a little like folded crepes, are traditionally a multiple-day production, and are often served at weddings.
"The dough itself is not too difficult, but they get shaped as they are frying, and that is a little tricky!  The good thing is that even the diples that don't look very good, taste fantastic!"
From cooking to blogging
Despite the attention and detail they give to Mia Kouppa, blogging is not their full time career. Helen works in finance, and Billie is a nurse with a doctorate in palliative care.
Neither thought of becoming food professionals. But, they wanted to capture their parents' recipes, only to find that much of their Greek cuisine was passed on through oral history.
There were no recipe books, there were grandmothers and aunts. Grilling techniques were guarded by the men. There were no precise measurements, there was simply plucking a cup out of the cupboard and scooping up ingredients (Mia Kouppa means "one cup" in Greek).
So, their blog set out to demystify the methods behind Greek recipes, and to help people who were unfamiliar with Greek traditions understand the stories and philosophies behind them.
As for the workload, Helen takes the photos and styles the food for their blog, and Billie writes the blog posts and recipes.
They've found that blogging has altered the way they look at food.
"Every meal, every shopping trip, every restaurant outing, is seen as an opportunity to either snap a photo, to try to speak to the chef or to try to discern what the ingredients may be," they say.
"We are constantly thinking of food, and ways to keep our blog exciting, fresh and useful.  There are a lot of great sites out there, so we need to be sure that we can provide people with a space that they enjoy visiting and learning from."
Getting started with Greek food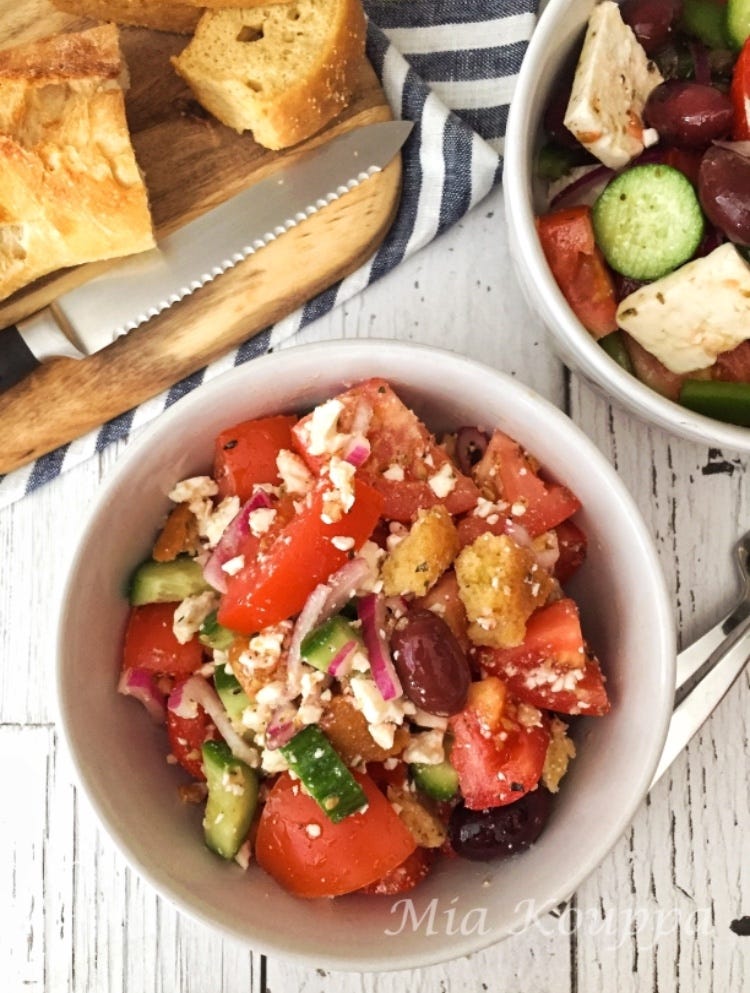 Over the years, I've enjoyed Greek food in many places — the Greektowns in Toronto, Detroit and Chicago, neighborhood Greek places in New York and especially in Boston, home to a fantastic store called the Greek International Food Market in West Roxbury.
Not everyone has been exposed to Greek food, however, and some people claim they don't like it, basing their perceptions on what they found dining out. The sisters believe that misconception can be corrected.
"We have to believe that if someone doesn't like Greek food, they either haven't had good Greek food, or they have tried one or two items that they think represent the entire cuisine, and simply don't like those things.  Greek food is so varied that there is something for everyone to love," they say.
"We would probably start them off with something basic like souvlaki served with tzatziki (yogurt sauce) and maybe a Greek village salad (horiatiki salata) and some olive oil fried potatoes."
To get started with cooking, "great choices would be our roasted chicken and Greek lemon potatoes or, if a vegetarian option is preferred, our fakes (lentil soup.) Classic Greek comfort food, and so good!"
As for equipping your pantry to begin cooking Greek food, they recommend acquiring dry oregano - preferably from Greece.  They often use dill, mint, parsley, and bay leaves.  Common spices include cinnamon, cloves, nutmeg and paprika.
You can learn more in this pantry post from Mia Kouppa.
Their culinary inspirations
Where do they look for inspiration? Helen is a fan of the Barefoot Contessa. "I just love Ina Garten! I have so many of her cookbooks and I so enjoy watching her cooking shows.  Absolutely everything I have ever made from one of her recipes has been a hit, and we have quite a few repeat dishes that our family makes."
She goes on, "I love that her recipes are simple, but also elegant and so full of flavour!  Plus, she seems like a really wonderful person; the kind you would enjoy chatting about food with." (She is: Ina was the subject of my first-ever food story for the New York Times.)
Billie, meanwhile, is a cookbook reader like me. She's a fan of the Moosewood cookbooks, "and in particular the original Moosewood cookbook, because this was one of the first cookbooks I ever bought and it opened my eyes to a whole new way of cooking." (I own this, too.)
She adds, "I also adore The Fundamental Techniques of Classic Pastry Arts by The French Culinary Institute; a tomb of a book for anyone who wants to study pastry and baking; it is such a wonderful resource and really highlights how baking is both a science and an art, like Nursing!"
Thank you ladies! Ya'soo to you both, and looking forward to meeting you once there's a vaccine.
A Children's Book For Picky Eaters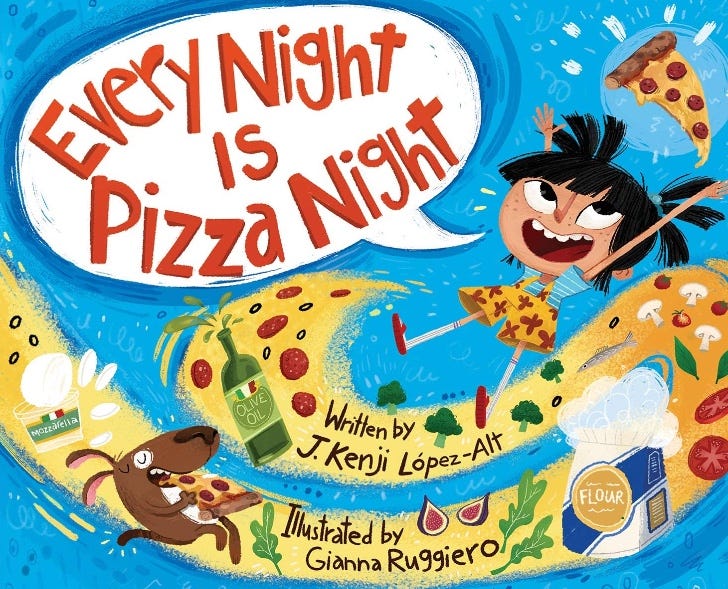 Written by J. Kenji Lopez-Alt
Illustrated by Gianna Ruggiero
Every Night Is Pizza Night might sound like the menu in a lot of houses during the pandemic. But it's also the title of a children's book by James Beard Award winner J. Kenji Lopez-Alt. You may know him for his grown-up book, The Food Lab, and in Pizza Night, he takes science to a younger level.
Pippa, his main character, is convinced that pizza is the best food. But her parents encourage her to gather data from around the neighborhood. In the course of her research, she samples tagine, pozole, red beans and rice, dumplings, and a whole lot of other foods.
Does pizza still win? You'll have to read the book to find out. It will be a charming journey for any family that loves food, and for people who enjoy clever illustrations.
The CulinaryWoman Of The Week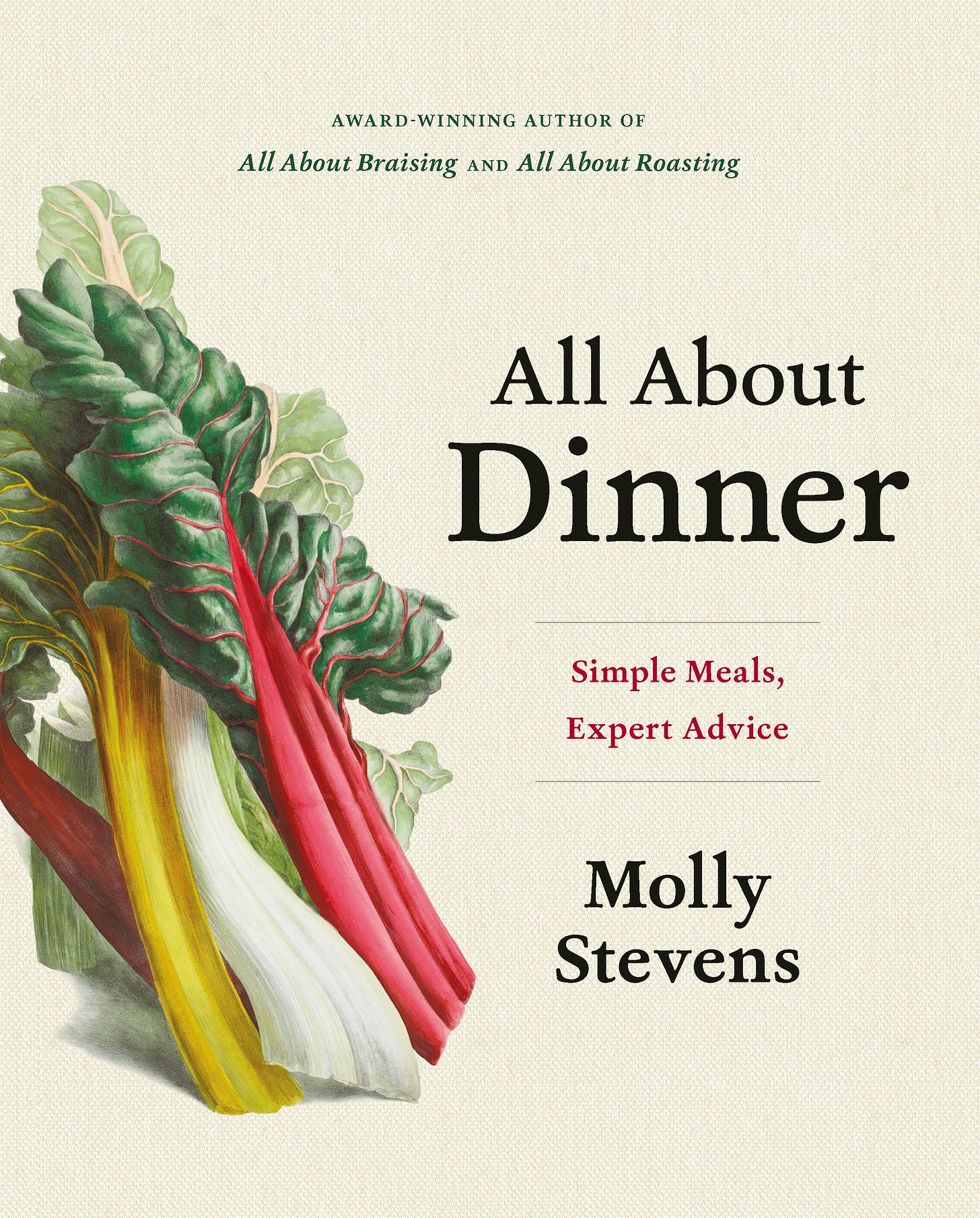 Last fall, I attended the 244th special dinner at Zingerman's Roadhouse, featuring cookbook author Molly Stevens. I was excited to finally meet her, after years of reading her cookbooks and following her work.
As it turned out, Molly appeared at the first-ever Roadhouse special dinner. Those gatherings are now on hold, and I can't wait for them to resume. (Wear a mask!)
Along with being a skilled editor and writer, Molly is a natural teacher. When you listen to her speak, you can tell that she's intent on sharing her knowledge in the hope that you will get more enjoyment out of the dishes that you make at home.
Many others have noticed, too. In 2007, she was named Bon Appetit's "Cooking Teacher of the Year." The magazine likened her to chefs such as Julia Child and Jacques Pepin in helping Americans understand ways to use food.
Molly's method is to take an approach to cooking, and give you a thorough understanding of ways to employ it, such as roasting, or braising.
I loved her most recent book, All About Dinner, which made numerous "best cookbook" lists in 2019.
My friend Kathy Gunst, the resident chef for NPR's Here & Now, says it's one of the books she turns to when she wants to "light a culinary fire in the kitchen."
Kathy said she was looking forward to trying dishes like roast pork loin with maple miso glaze, Brussels sprouts hash with shallots and mustard seeds and the triple ginger apple crisp.
The Montreal Gazette called her book a "complete cooking course." And like any good student, I couldn't wait to try out my knowledge.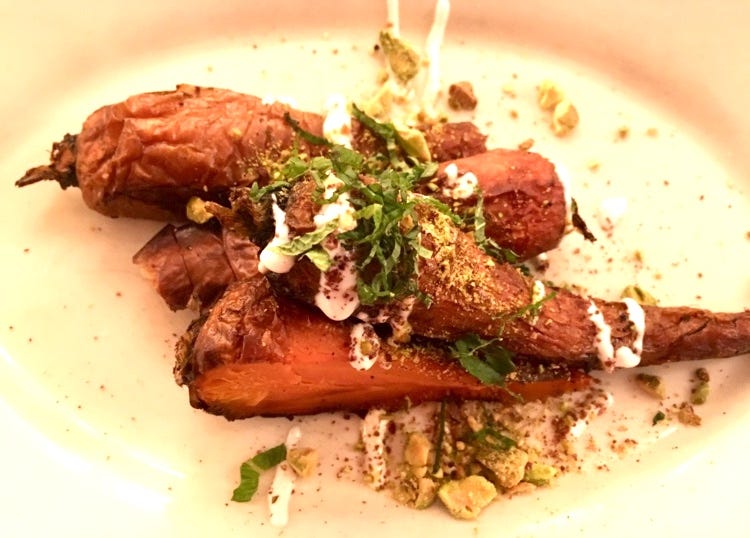 As soon as I got back from Molly's special dinner, I put one of her recipes into action. Her roast carrots with pistachios, sumac and yogurt-lime drizzle have now become a permanent part of my repertoire.
For all her sage advice, I'm pleased to name Molly Stevens as our CulinaryWoman of the Week. Whichever of her books you pick up, I know you'll learn something that you can't wait to apply, too.
What I'm up to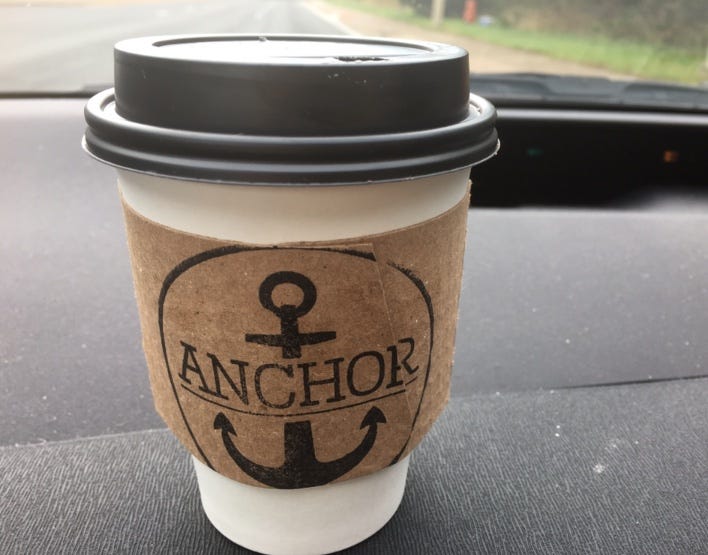 A coffee shop does some soul-searching. I was fascinated last fall when I heard that Anchor Coffee House, an independent coffee bar in Windsor, Ontario, had opened an outlet in the big Devonshire Mall. It was part of a trend of indie coffee shops going into supermarkets, airports, office buildings and malls. This places wanted the customers they hoped these cool brands would bring with them.
But earlier this month, Anchor closed its mall store and retreated to its pair of original coffee places. The move, prompted by COVID-19, caused the owners to re-examine what they really wanted their business to be.
Tell everybody about CulinaryWoman!
We'd love to have more people sign up for our newsletter! Feel free to recommend us through the "share" button at the end of your email, or by posting a link on your social media.
You can follow CulinaryWoman on Twitter @culinarywoman. I'm also @michelinemaynard on Instagram. If you let me know you're a newsletter subscriber, I'll be happy to follow you back. Thanks to those who have! 
If you'd like to get in touch, I'm at mamayn@aol.com. Stay healthy, wear a mask, and see you next Sunday.