Fall is traditionally a time for new beginnings — new clothes for school or work, new television programs, the return of football, and the excitement of the looming baseball postseason. In this unusual year, lots of us are looking to start fresh. And, what better way to do so than to try some new flavors.
Inside The Fascinating World Of A Flavorist
Donna Wamsley has what I think may be one of the most interesting jobs in the food world. She is a flavorist — a scientist who develops new flavors.
Formally, her title is director of research and analytics for SoRSE Technology, an emulsion supplier for the food, beverage, cosmetics and healthcare products industries.
Essentially, she develops the flavors that you find in the things you eat, drink, use on your body and ingest internally.
It's a very specialized field, and one that you need a sponsor to enter. Young scientists must approach a certified member of the Society of Flavor Chemists, and ask to become an apprentice.
"You don't really get to pick," Donna says. "Your sponsor says, 'yes, I'll take her on.'" The practicum is rigorous: during their seven-year apprenticeships, budding flavorists need to learn the properties of 4,500 different raw ingredients.
Although it is a male-dominated field, the top five certified flavorists are all women, and Donna has had three women sponsors during her career.
She tries to return their faith in her by teaching STEM classes that are aimed at convincing young women to enter science fields.
What the job entails
Flavorists, Donna says, are hired by their clients to interpret what's happening in the marketplace. "Flavor trends are typically predicted based on what is popular now and what is asked for in this moment."
And, what consumers currently are seeking are flavor combinations — taking a familiar flavor, and enhancing it with another one.
(This may help explain why Epices de Cru in Montreal, which we featured in a recent newsletter, is selling so many blends of spices.)
Donna uses strawberry as an example. While you still see strawberry as a stand-alone option, increasingly, you'll see a combination like strawberry-lime, or strawberry-kiwi, or strawberry added to something else, like a strawberry margarita or a strawberry mojito.
This flavor-blending is relatively new for the American market, but it has always been a factor outside the U.S., especially in Asia and Latin America, where layers of flavors have long been popular.
"If you look at things 10 years ago, people in the United States were experiencing traditional flavors," she says. "Now, we are experiencing other cultures."
The Race To Find A Winner
Donna says flavors are moving faster than ever. It used to take two to four years for a flavor to make its way into the confectionery world.
But with so many brands introducing limited-time only flavors, new variations are appearing faster. Think the constantly changing types of Lay's potato chips, or crackers, or the Oreos lineup.
"People don't want to wait four years for a new product," Donna says.
For instance, M&Ms has made new variations one of its trademarks. But unless they are so popular that they become permanent members of the line up, these don't stick around very long.
"The limited runs are 18 months, and then they are gone," she says.
The key to introducing a new flavor is to make sure customers know what it is. Donna says it took about six years for tahini to move from Middle Eastern food into the mainstream.
"People want to try it, but is it going to be weird?" Donna says.
One avenue for introducing new flavors is the coffee market. I recently wrote about the different flavors of cold brew coffee that appeared on the market this summer.
Ice cream has become another one, especially in non-dairy versions like oat milk, which may require more dressing up to taste closer to ice cream.
However, manufacturers face challenges in finding the ingredients to create these new variations.
The pandemic has revealed issues with global supply chains, and climate change is another factor. Fruits such as lemons, limes and grapefruit have been affected by severe weather, while cocoa growers also have wrestled with disease.
There is a way around this. Donna explains that flavors are developed in three ways: first, using chemicals; second, using a combination of chemicals and natural flavorings; and third, using all-natural flavorings.
If something isn't available the natural way, flavorists can work on making them through laboratories (the slogan, "better living through chemicals" comes to mind, but in this case, it's better flavors).
The New Big Flavor Trends
So, what does Donna think will be the next flavor trends? She's enthusiastic about the opportunities that lay ahead for Korean food.
Americans are already getting familiar with kimchi, the fermented cabbage that's a basic condiment in Korean cuisine.
Now, Donna thinks they'll soon be getting to know gochugang, the spicy red pepper chili sauce, and doenjang-jigae, a stew made with the fermented soybean paste that's a cousin of natto, a feature of Japanese food.
(For a primer, check out My Korea, the cookbook from chef Hooni Kim that we recently recommended.)
She also thinks drinking vinegars, which are milder than the kind used in cooking, will become popular. I just bought some Japanese red vinegar from our friends at Coutelier in New Orleans.
"Especially with the pandemic, people want to live more of a happy life style," she says. Drinking vinegar will "help your immunity, and help your gut."
A Manual To The Way The French Imbibe
David Lebovitz
I've been a fan of David Lebovitz ever since I read his 2009 book, The Sweet Life in Paris. His stories are funny and his recipes have clear instructions and delicious outcomes.
If you've ever renovated a home or an apartment, you will laugh until you cry at his book L'Appart. I actually witnessed the renovation of a Paris apartment down the hall from the friend's place I borrowed in the 7th Arrondisement, and I can assure you all his travails are 100% true.
I got to meet David at a very crowded book party in Brooklyn when Dorie Greenspan's book, Dorie's Cookies, came out.
During the pandemic, David has become a master of social media. He has conducted regular Instagram Live sessions, sometimes with his partner Romain, who never fails to make me laugh with his pointed and very French opinions. (I'm of French descent, so I can say that.)
Many of David's presentations have featured recipes and people from his most recent book, Drinking French.
Now, the book has lots and lots of aperitifs, cocktails and information about Paris cafe culture, but there are numerous nonalcoholic drinks, too. If you ever wanted to learn how to make French hot chocolate, you will find instructions here.
Beyond that, Drinking French is just a pretty book with wonderful photography. Since lots of us can't travel, it's like a mini-holiday in a place many of us love.
The link is to Omnivore Books in San Francisco, the fabulous store in David's home town. They would be happy to ship you one. Or, find a bookstore where you live.
Salut, mes amies! Sante a tout.
CulinaryWoman Of The Week
Lisa Birnbach shot to fame right out of college, when she co-authored The Preppy Handbook.
When I read it, I felt seen, as the expression goes. Although I hadn't gone to prep school, and my Ivy League stint lay ahead, the book captured the clothes, cars, entertaining and traditions that my family embraced. Other people noticed, too, since I got five copies as gifts.
Fast forward, and I got to meet Lisa in Chicago when her book, True Prep, written with Chip Kidd, was published in 2010. Brooks Brothers had the ingenious idea to sponsor her book tour, and I was delighted to see that her book included a shout-out to NPR.
Lisa still writes regularly, but lately, she has become a star of the podcast world. Each week, she broadcasts 5 Things With Lisa Birnbach, which you can find on all your favorite podcasting platforms.
While 5 Things isn't specifically food focused, it has lots of food content. Lisa recently interviewed Chef Kwame Onwauchi, whose Notes From A Black Chef should be on your reading list.
She's talked to Harlem-based Chef J.J. Johnson, and to my friend Kathy Gunst and her co-author Katherine Alford about their book, Rage Baking.
Each week, Lisa picks five things that make her life better. This week, they included fruits and vegetables from your own garden, and Lisa has recommended bakeries, restaurants and raved about her friends' cooking.
She's also a very loyal friend. Lisa has staunchly defended writer E. Jean Carroll in her legal battle with the president, and many of the guests you hear on her podcast are people she has known for years.
When this pandemic ends, I hope my next trip to New York will include a good long conversation with Lisa.
For being such a boon to authors and to the food world, I'm tickled that Lisa Birnbach is our CulinaryWoman of the Week.
RIP RBG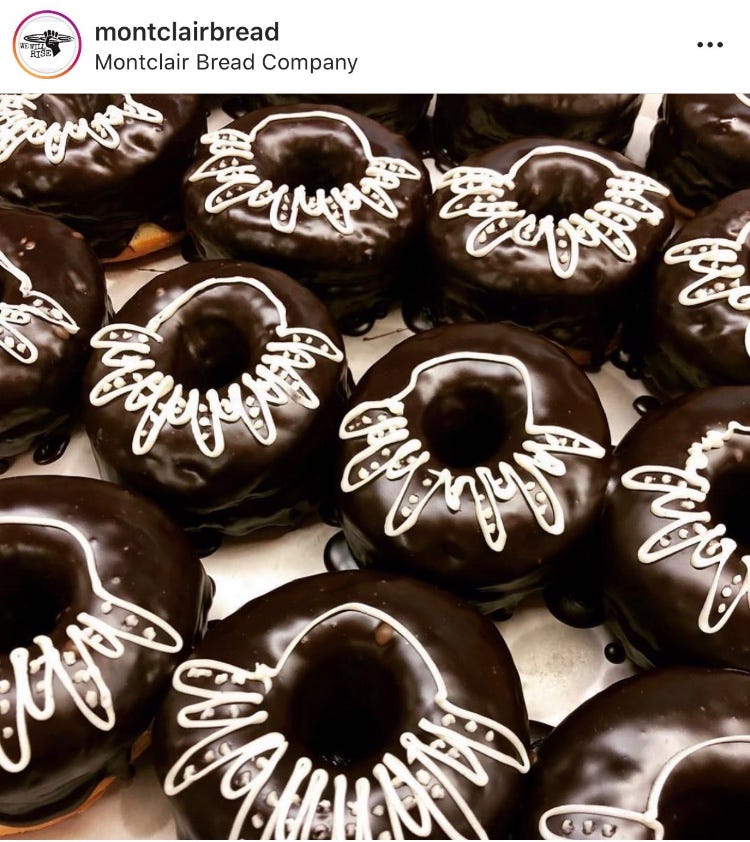 Ruth Bader Ginsburg loved to eat. Cooking was another matter, as NPR's Nina Totenberg told us this weekend.
Justice Ginsburg touched countless lives, from children who dressed as her for Halloween, to millions of people who benefited from her Supreme Court rulings.
RIP RBG, and may we keep moving forward.
Keeping Up With CulinaryWoman!
As we told you last week, there's a new CulinaryWoman podcast. We're on all the big podcast platforms — Spotify, Apple, Google, Breaker, and our production home, Anchor.
The goal is to produce new podcasts about once a month, but we'll do them more regularly if you enjoy them. Please "follow" and subscribe.
Feel free to recommend the newsletter through the "share" button at the end of your email, or by posting a link on your social media.
You can follow CulinaryWoman on Twitter @culinarywoman. I'm also @michelinemaynard on Instagram. If you let me know you're a newsletter subscriber, I'll be happy to follow you back. Thanks to those who have!
You can get in touch with me at mamayn@aol.com. Stay healthy, wear a mask, and see you next Sunday.